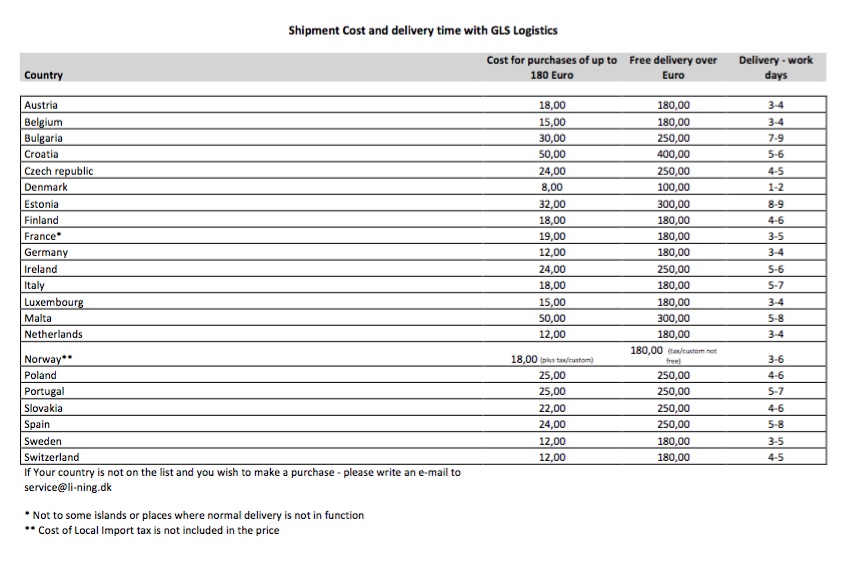 Delivery
When completing an order, it will be shipped within 1 to 3 business days. Normal delivery time to addresses in Europe can be seen above. All items are shipped with GLS or Post Nord. Errors in this regard can occur.

Return (Right of withdrawal)
If you regret your purchase, all standard stock items can be returned within 14 days from the date of receipt. Upon return, the item must be in the same condition and quantity as at the time of receipt. In return, you pay the shipping costs.
The purchase price will be credited to your account within 2-3 weeks. When returning, please enclose the return slip that is included when you buy the return label. Upon return, the amount will be returned to the account associated with the payment card used for the purchase. Cancellation can also be done by refusing to receive the item.
For further information, see SHIPPING / PRICES / RETURNS.
Items supplied / ordered by the customer with special stringing in the racket, clothing with name print or club related clothes with print can not be returned or exchanged.
Exchanges

Any standard stock item can be exchanged within 14 days. When returning, please enclose the return slip that is included when you buy the return label.
If we do not have the item in stock, the amount of the item will be returned within 14 days or as soon as possible. Goods can only be exchanged for goods with the same or lower price. If you want a product for a higher price, please order new order. You can also place a new order immediately and make a note that it relates to exchange. Then you will be credited the returned items as soon as we have received them.
Personal data on purchase
When you make purchases on our websites, we collect a number of personal information about you. The information we register is: Your first and last name, your address details and your e-mail address. The information is not encrypted, nor is it transmitted in encrypted form. As you shop on our websites, you agree that we allow you to retrieve these personal data through your email address or phone number. This means that these personal data are publicly available and can be accessed if you have access to your email address or phone number. If you wish to delete these personal data, please contact customer service that can remove your personal data. Credit card information is encrypted. We do not store your credit card information. Please note that you accept our personal data policy ("processing your data") when using this website, including our use of cookies.
Complaint
We check all items before shipment. Should there be any error with an expedition, don´t hesitate to contact us at email: service@li-ning.dk. This return slip is completed and returned with the goods. Items returned by complaint are repaired or replaced by a new delivery within 7 days of receipt. If we haven´t got the replacement product, the amount paid will be credited within 14 days. In addition, of course, the 2-year deadline for payment according to the Buying Act applies.

Personal data
If you participate in the competition, please be sure to provide all the personal information specified at the competition so we can send you teh winnings. We are not responsible for any typographical errors. We reserve the right, with immediate effect, to change the winnings in a competition or completely discontinue the competition. The employees of us as well as members of their households may not participate in the competition. If you have questions, please feel free to contact us.
Prices and discounts
Errors in connection with prices and discounts can acour. In the case of special agreements for the purchase of club or groceries, you may not combine the negotiated prices with other types of discounts or coupon codes. Discount codes do not apply to already discounted products.
Li-Ning Family
50% discount of indicative out prices on all products. Services like stringing and printing is not discounted.
In general
If you have further questions, you can get the most answers by clicking Customer Services at the top of the website. You are also welcome to contact our customer service at sevice@li-ning.dk or phone (+45) 31 25 00 10. We ask you to have your order number at hand.
The return address is: Sportbiz ApS, Marielundvej 45B st., DK-2730 Herlev, CVR no. 30349296